Shopping Centers, Malls in Mexico City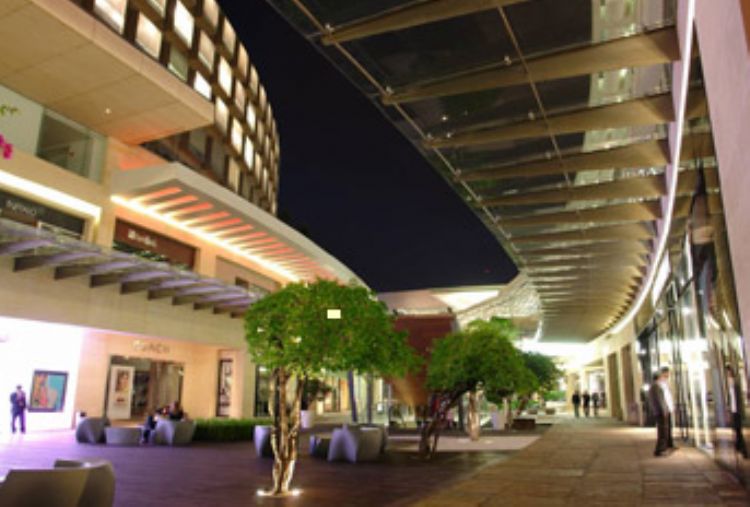 Who hasn't felt that in malls we can practically find everything we need?? Even though the places to go shopping are all around the city, I would like to mention some of the ones that stand out for its variety of boutiques, its architectural design, or simply because they reflect a lot of style. In this brief note we cannot mention every single store, reason why we decided to simply mention some of them to encourage you to visit the malls and find out for yourselves.

Antara Fashion Hall:

It is one of the most luxurious and stylish places in the city; the looks of the complex are sublime and the quality of its materials is superb. The Antara Fashion Hall is going through the construction of its second stage. The design (made by architect Javier Sordo Madaleno) has its inspiration on the walks done along shopping streets. It is located in Polanco at the corner of Avenida Ejército Nacional and Avenida Moliere.

Amongst the most notorious fashion stores, we find Zara, Hugo Boss, Aldo, Náutica, Thomas Pink, Pull & Bear, Kenneth Cole, Carolina Herrera, Buffalo, Emporio Armani, Calvin Klein (underwear), GUESS and Rapsodia. It is noteworthy that sports clothing can be found on the windows of Quiksilver, Nike, Adidas and Zurich.

When talking about entertainment there is the Toystore called Juguetería Imaginarium, the Casino Play City, and the Movie Theater called Cinemex, which offers VIP cinemas. This mall is one of the few that offers nightly entertainment by Ragga which is a wonderful disco place, and the Erawan Lounge Room. If you wish to visit any of this last two places, please know that their hours of operation start at 10:00 pm.

Game Planet has a wide variety of videogames, while Sony style, Iusacell and Telcel phones can be counted amongst the stores with various types of technology. Nokia deserves a special mention, since they have a show place where their most recent articles can be seen.
The best gourmet food shops at the plaza are the Erawan, Syrah, Splendido, Sunka, Palacio Restaurant, Varela and Odeon. In the area of the fast food, we can name El Farolito, Burger King, China Bistro, Smood, Toto´s, Sbarro, Arrachera House, Sushi-itto and Frutos Prohibidos y Otros Placeres.

If you like desserts, you can enjoy eating at Nutrisa, Ben & Jerry´s, Moyo, Teavana and L´atelier du chocolat. Finally, if you need information about airlines, ticket and reservations you can find Aeroméxico and Interjet counters. Banking services are available by Banorte, BBVA Bancomer, Scotiabank and Prudential Bank IXE.
The Mall is open every day from 11:00 am to 9:00 p.m.

Reforma 222:

Just as its name says, this Mall is located in the most famous avenue in the city, Reforma in number 222 of Colonia Juárez, on Cuauhtémoc Delegation. It has four levels with stores and a huge fast-food area. The place lets enough light in, and it has big spaces. It was opened three years ago and has host several events and artistic performances. The Plaza is open from 8:00 am to 11:00 pm; however the hours of operation of every shop vary.

Some of the shops and services we can find here include 4 branches of banking institutions (IXE, Scotiabank, HSBC and Banca Mifel), and stores to buy shoes and clothes such as Zara, C&A, Converse, SOHO, Tommy Hilfiger, GUESS, Bershka, Women´s secret and Scapinno.
If we are looking for accessories or jewelry, we can go to Swatch, Xanat, Todo Moda, LeSportsac, Daniel Espino or Joyería Bizarro. Entertainment can't be missing in any mall, so Librería Porrúa (Bookstore), the Mix Up (Music) and the huge movie theater Cinemark are good representatives in this area.

Finally, in the food area we can find Sushi-Itto, Chili´s, El Bajío, Subway, La Destilería and McDonald´s. You can't miss the coffee when being here, so The Italian Coffee Co., Café Punta del Cielo and Starbucks provide this service.

Centro Comercial Santa Fe: (Santa Fe Commercial Center)


Centro Comercial Santa Fe is located on the westbound area of Mexico's city. It has a great variety of stores and has been recognized as one of the largest malls with more than 300 different commerces in it. The architectural project was designed by the renowned Architect Juan Sordo Madaleno. This mall has a very pleasant space distribution, which provides comfort to visitors and ease of operation to shops.

Amongst the leading clothing stores, we would mention Aldo Conti, Replay, Mango, Diesel, Boutique Ermenegildo Zegna, Max Mara, Catimini, D´Love, Café Coton , Vicky Form, Marsel, Zara, Docker´s, Vértigo, Bershka, Donnina, Oysho, Penny Black, Pull & Bear, Scapinno y Genoveva Domenzain.

If you are looking for entertainment, or to bring your kids to spend some fun time, Yak, Game Rush, Cinemex, Sparkling Princess, Montecasino, Game planet, Xtreme planet, and Librería El Péndulo are some good options.

One of the highlights of this mall is the Golf Range, a place for everyone that like this sport or would like to learn about it. In it, you will find everything from equipment and instructors, to a place to practice shooting at their stations or the 230-meter green.
All the phone companies have stands here. In addition, airlines have their own place to promote traveling. Amongst these are American Airlines, Aeroméxico and Continental.

The dimensions of this place make it impossible to come up with a list of everything we can find here, ranging from sporting goods, vision specialists, restaurants, department stores, entertainment, photographic items, banks (Banamex, Cisa, IXE, BBVA Bancomer, HSBC, Inbursa, Banorte, Scotiabank and Santander), shoe stores, a huge selection of furniture and decoration stores, beauty salons and much, MUCH more!

Finally, we would like to mention some of the fast food stands that you can find here. These are: Subway, Tortas Biarritz, The Arrachera House, Sbarro, Pizza Hut, El Globo, KFC, El Hijo de Santa Fe, China Town, Líbano Express, Super Salads and Burger King.
The parking spaces in this mall are suprising in their number: 5,000 in all, so parking shouldn't be any problem for visitors. Its hours of operation are from 11:00 am to 8:00 pm.

Parque Duraznos:

This mall is located in Bosques de Duraznos #39 in the neighborhood of Bosques de las Lomas. Its motto is "I have the life I like", and certainly you can find many stores, events and constant innovations. It opens daily from 11:00 am to 8:00 pm.

Just to mention some of the clothing stores, we have: Mare, Seven, Lacoste, Nine West, Scapinno, Catimini, Adolfo Domínguez and Lola B. If you like cigarettes, the Tabaquería Cuesta Rey is a good option.
We can't forget about entertainment in this place so the movie theater Cinemark is bright and spacious, the Mix Up sells the most modern music, some of it from famous movies; there is the bookstore called Librería Porrúa, and the store Craft in the Box, which has a variety of crafts to make.

Dinning options are huge: Taco Inn, La Crepé Parisiene, Sushi Itto, China Express, VIP´s, Fisher´s, California Pizza Kitchen, Nick San and McDonalds, and if you wish to enjoy some treats, visit Nuny´s, Häagen Dazs or Chilim Balam.

The mall has surveillance cameras and its security is very efficient.

Arcos Bosques:


This is a very peculiar and unique in its class complex of buildings, since it is controlled by an autonomous and intelligent system that controls everything in the facility: electricity systems, elevators and hydro-sanitary systems. The building resembles a pair of twin towers and are located in Paseo de los Tamarindos #400 B, in the neighborhood of Bosques de las Lomas. Its architecture is really amazing, since it doesn't have any internal columns but does have a 5 star hotel inside.

The mall itself its located in the Tower 1, on the third floor. It has an area of over 1600 square meters, and has 61 shops. A point against it is that it only has one bank: IXE, and one positive feature is that it is forbidden for anyone to take pictures inside the building, for the safety of visitors.

If we want to talk about very exclusive fashions, we can find them in the following stores: Hugo Boss, Steven Madden and DKNY. One of the very few Apple i-stores is located here and if we are interested in a good wine we can visit Egotinto. We can also find a movie theater named Cinemex, that has 12 rooms, with 5 that are VIP. On the other hand, its night club Hyde closes late since it has an independent entrance. The atmosphere is nice and mainly for adults; it has a great style. We recommend that you go prepared with some money, since the cost is high.

At lunch time, you can enjoy the dishes offered by Guardina, Un lugar de la Mancha, Rivoli, Puerto Madero, Bistro Mosaico, Guardiana, Prima Rosa, Moshi Moshi, Piola y Piegari Ristorante. La Casa de Te "Teavana" and the ice cream Häagen Dazs, are also a good option.
The architectural design of the place is beautiful and offers a lot of good options to buy. The place is open from 11:00 am to 8:00 pm.

Artículo Producido por el Equipo Editorial Explorando México.
Copyright Explorando México, Todos los Derechos Reservados.