Camping Sites, The Best in Mexico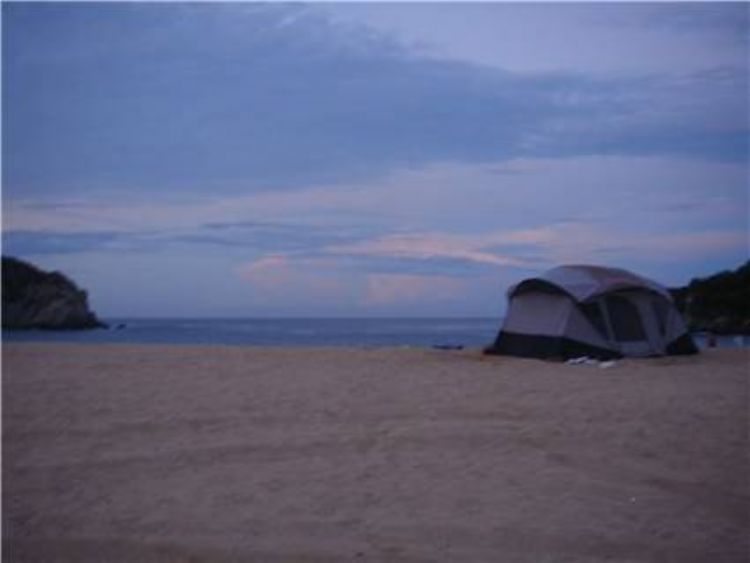 Mexico offers hundreds of fascinating camping sites. We recommend you explore this wonderful traveling option with proper planning and preparation to ensure the success of your adventure.

Here is a list of some of the best camping sites in the country.

Laguna de la Media Luna in the State of San Luis Potosi is a site of great tourist, archeological and agricultural importance. Visitors can camp and scuba dive to discover the two mammoth remains, preserved because the lagoon is a volcano crater and its sulfurous water is extremely transparent and serene.

Las Estacas Natural Water Park, in the heart of the State of Morelos, was opened to tourism in 1941 and is a tropical paradise with exuberant vegetation, lotus flowers, fish, turtles and ducks. It offers round the clock surveillance and restrooms so you can camp in ease. River Estacas can be enjoyed by boat, swimming and scuba diving. It is a great spring with peaceful areas within beautiful surroundings that have been the scenario for many national and foreign films.

San Blas Dam in the State of Aguascalientes was originally built as water supply for the lands of San Blas Estate in the 16th century. It is ideal for hiking, horseback riding, fishing, rock climbing and excursions. This site is visited by bird watchers for the great amount of species it hosts.

Constitution de 1857 National Park in Ensenada, Baja California Norte is located at Hanson Lagoon. In the middle of a natural reserve 5,000 hectares long, it is completely surrounded by pine trees and hills in a spectacular landscape. There are excellent trails for mountain biking with different degrees of difficulty. Swimming and fishing are prohibited in the lagoon but canoes are available for a fun rowing trip.

Magdalena Bay in Baja California Sur is a unique biodiversity universe. This port of entry to the Pacific Ocean is the natural reserve for gray whales arriving to fulfill their life cycle from January to March. It is one of the best sites for watching this whale, protected natural resource. Its beautiful coast offers many beaches, streams, islands and mangroves; sanctuary for marine birds and abundant fish species. It is an excellent site for camping on the islands, taking tours of the bay and sports fishing.

Calakmul in the State of Campeche is the largest tropical ecological reserve in Mexico. This area of great archeological wealth is submerged in the jungle. It is famous for the great variety of endemic orchid species. It is also the most important area for the protection of wild felines in Mexico and the world, refuge for species of ocelot, jaguar, cougar and tiger cat. You can experience lots of fun ecotourism activities like camping and photo safaris.

The Waterfalls of Agua Azul in the State of Chiapas are formed by the Tulija River that descends forming amazing waterfalls and natural pools; one of the most unforgettable natural wonders in Mexico. It is home to impressive species of flora and fauna, including yellow neck toucans, spider monkeys and orchids. It is one of the best places for photography, hiking and camping.

Basaseachic Waterfall in the State of Chihuahua is the fifth tallest in America. Hikers enjoy going down a 2 kilometer trek to where they closely experience the thunder of this amazing waterfall. Its landscape of gullies, forests and streams hosts wonderful eagles, woodpeckers, wild turkeys, pumas, deer and foxes. It's an excellent site for mountain cycling, hiking and camping.

Los Azufres in the State of Michoacan is an area rich in thermal water geysers and springs. This beautiful national park combines pine forests and lagoons. The healing properties of its thermal water are famous for relaxing body and spirit. It is a great place for camping and swimming.

Marieta Islands in Banderas Bay in the State of Nayarit is an archipelago of three islands. To reach them, take a boat ride on the channel connecting the islands to Punta Mita. It is a site of extreme natural activity, thousands of marine birds nest on its golden meadows and it is the sanctuary for the reproductive cycles of the humpback whales that inhabit Banderas Bay between November and April. Exploring the grottos and cliffs, camping on the beach and discovering the wonders of marine life by scuba diving or fishing is a remarkable adventure.

Huasteca Canyon in the State of Nuevo Leon is one of the most stunning natural monuments in Mexico. On the high mountains of Sierra Madre Oriental, its walls exhibit prehistoric glyphs, sculpted thousands of years ago by nomad tribes. Its imposing verticals are a great challenge for everyone who loves mountain climbing, rappel and camping.

Mazunte in the State of Oaxaca is one of the most beautiful beaches in the region; named in honor of the blue crab that used to be very abundant in the area. It is the venue of the Mexican Turtle Center and its beautiful beaches are preserved in an almost pristine state so everyone can enjoy the peacefulness of this beautiful sea and tropical jungle.

Agua Selva in the State of Tabasco is a fantastic hydrological complex with a great number of waterfalls and rivers. Its beautiful landscape offers waterfalls, springs, jungles and archeological sites. This place is visited by all who love photo safaris, mountain biking and hiking.

Artículo Producido por el Equipo Editorial Explorando México.
Copyright Explorando México, Todos los Derechos Reservados.