Boating, The Mexican-Center Pacific Route: Ixtapa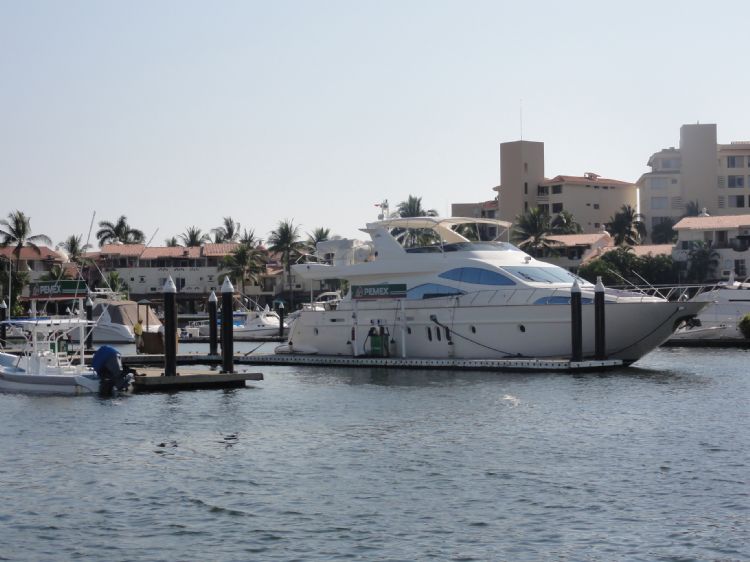 The Center Pacific route takes us by the coasts of the state of Guerrero visiting, besides Acapulco, another beautiful port of singular attraction to the maritime traveler: Ixtapa.


Ixtapa, a port with international quality services, welcomes the maritime traveler with arms wide open. Let´s first consider a place to dock your boat: To this effect, La Marina Ixtapa is ready to receive vessels of up to 120 feet in length, being one of the busiest marinas in Mexico. Each docking position offers services such as electricity, drinking water, ramps and services for your boat. You will have no problem with refueling, since the ES 8842 service station is available on site to provide you with Diesel and Premium Gasoline, with extended hours and diverse payment methods. For your convenience, we suggest making an appointment for refueling.


If you decide to make Ixtapa the home of your boat, the port has the Marina Seca Ixtapa, where you can store indoors, and safe from inclement weather any vessel of up to 31 feet. The service includes washing the boat monthly and starting its engine to keep it in top operating condition. With just a 48-hour notice, your boat will be ready to use at Marina Ixtapa.


If you are a Golf enthusiast, we recommend you visit the Marina Ixtapa Golf Club. Located next to the Marina Ixtapa, this 18-hole championship course has a unique design created by Robert Van Hagge, which includes dunes and, in 13 of the holes, a series of canals that allow you to travel by water between the private villas, the Club House, and the rest of the Marina facilities.


The Palma Real Golf Course was designed by Robert Trent. Opened in 1977, it was one of the first attractions built by the National Tourism Fund to promote Tourism in Ixtapa. It offers 18 holes of several degrees of difficulty, with manicured grass and equipment rental services, in case you decide not to bring your own equipment.


Fisher's Restaurant

Located at the L5 Marina Ixtapa Shopping Center, this restaurant offers delivery service to your yacht. Its cuisine includes seafood dishes with unbeatable freshness and a taste that sets this restaurant apart. Some of its iconic dishes are the Oil Shrimp, seafood tacos, and a wide variety of fish soups. You don't want to miss this place, which has an exceptional view of the Marina berth, making it the ultimate meeting place for the sea fanatic!

La Gaviota Restaurant

Located at "La Ropa" beach, this place, besides being a must, is visited by locals, tourists and even celebrities that like to savor the best seafood in town. Its menu offers classic ingredients such as shrimp, octopus and squid in its various preparations, being distinguished for its traditional recipes, already well liked by its recurrent dinner guests.


Ixtapa Island

Located 10 minutes away from the beach Playa Linda, this island can be reached by boat from here, or from the Playa Quieta Beach or the dock of Zihuatanejo. If you visit the island aboard your boat, you can get there easily. The island offers calm beaches that are great if your goal is to rest or to practice water sports and surface diving. It also has a variety of restaurants with delicious homemade food at a fair price. The best beaches for swimming, due to their gentle and calm waves, are the ones pointing west, and Coral Beach, in this same island, is an excellent place for snorkeling.


An additional attraction of the Mexican Pacific Coast is sport fishing. Ixtapa is distinguished for the possibility of fishing large species. Sailfish averaging 35 to 45 kilograms and sometimes reaching up to 80 kilograms, is the favorite fishing all year round. Some beautiful specimens like the black and blue marlin, can weigh up to 230 kilograms! There is also a good amount of Yellowtail Tuna, and for beginners there is the option of fishing from the beach or the dock, which is not only great to spend sometime together with the family, but to fish safely with the little ones.


And regarding evening entertainment, Ixtapa offers a variety of options, the most popular being:


The Club Christine. This is one of the most popular places in Ixtapa: Its luxurious facilities, with the vanguard technology in audio, video and lighting, as well as the latest musical hits, make this place one of the most modern, with a unique atmosphere in the city.


Señor Frogs, located at the Ixtapa Shopping Center, is a classic place in Ixtapa: As the evening starts (it opens at 6:00 pm), it becomes a lively bar with a jovial environment and good music, which is preferred by the new generations. The waiters are an entertainment themselves, as they participate actively during the night by encouraging the customers with free shots, contests, etc. It has a dance floor and a huge bar where people can alternate having a lively conversation and making new friends. The best ambience starts around 11:00 pm and continues until early in the morning.

We invite you to visit Ixtapa, arriving with your boat to its modern marina and from there continue discovering its rich gastronomy, its exciting night life and the activities such as fishing, water sports and more. We are sure you will enjoy your stay and will want to return very soon!


Article produced by the Editorial Team of "Explorando Mexico".
Copyright Explorando México, All rights reserved.