Attractions in San Carlos, Sonora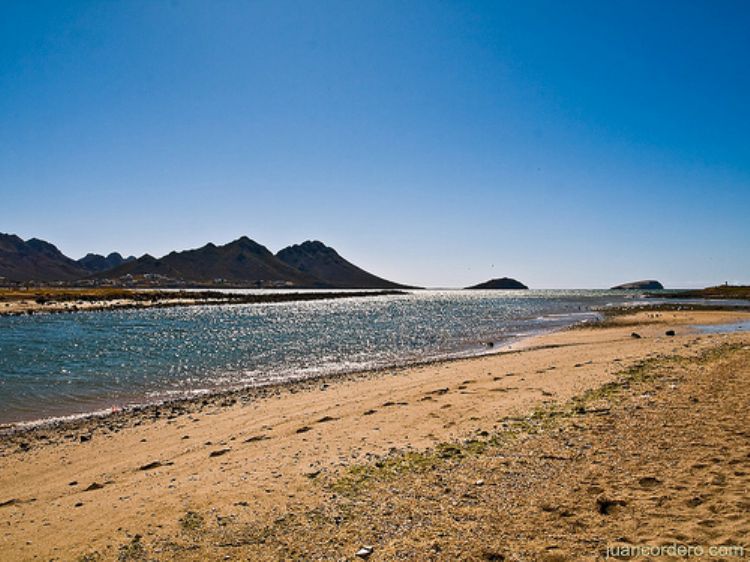 San Carlos in Nuevo Guaymas is a beautiful port in the State of Sonora, 120 kilometers from Hermosillo, the State capital, and 390 kilometers from the border with the U.S. Considered the main tourism port in the State, this beautiful site offers extraordinary landscapes, and dreamlike mix of deserts, seas and mountains.
Many enjoy San Carlos for its great diving, snorkeling, fishing, sailing, hunting and golfing options in a very relaxed environment with first class services.

Everyone can horseback ride through this beautiful site, on the beach or through the mountain trails, guided by the kind horse trainers of Rancho de San Carlos. Its natural conditions are also ideal for mountain biking, so hundreds come to be challenged by the trails on this unbelievable landscape.

This bay is known worldwide as one of the best diving sites. This submarine paradise of crystal clear water boasts two artificial reefs; a ship and a ferry sunk 20 meters deep are now home to a boisterous marine life.

Located at the Sea of Cortez, the world's aquarium, San Carlos is the ideal destination for environmentalists. San Pedro Nolasco Island is 45 minutes from San Carlos; it is a rock formation 15 km long by 3 km wide, mixing a fascinating ecosystem of sea lions, thousands of birds and one of the most spectacular underwater landscapes in the world to be enjoyed by diving or snorkeling. Every winter, thousands of tourists gather for an unforgettable experience, watching the gray whale arrive at this sanctuary, a very transcendent event for the natural balance of Earth and this specie's preservation.

Among Sonora's best beaches, San Carlos offers Los Algodones Beach, named after the fine texture of its dunes, where the intrepid practice sailing, windsurfing and kite-boarding. San Francisco Beach is one of the most visited because its soft waves are ideal for family gatherings and kayaking. Piedras Pintas Beach is great for adventures and free of hotels and infrastructure.

Less than 10 km from San Carlos is the Natural Protected Area "Estero del Soldado", an marsh ecosystem of 778 hectares divided into mangroves, water and soil. It has 557 species of plants and animals, plus three mangrove species, and is considered one of Mexico's most important marshes. Most of its water is provided by the Gulf of California tide. This is where many local and migration birds shelter, nestle and feed, almost 115 species coming from all over the world. These mangroves can be traveled by kayak in order to enjoy the beautiful landscape and its priceless contribution to the preservation of these species. This ecosystem safeguards the sustainability of regional fishing by being the place of reproduction and shelter of many important species, including shrimp, clams, oysters, mussels and crabs.

The tropical paradise known as Nacapule Canyon is a wetland safeguarded within impressive rocks, which has created its particular flora and fauna. Only six kilometers from San Carlos, this exotic site combines water wells with nacapule trees, cactus, palm trees and 80 meter high rock walls.

Fishermen know San Carlos is the best place to fish in all of Sonora, thanks to its 800 marine species. Great boats are available for rent at this port so you can go in search of excellent samples of sailfish, mahi-mahi, tuna, sierra and marlin.

The Pearl Farm located at Bacochibampo Bay offers a great tour. The Sea of Cortez pearls are known to be extremely exotic for their unusual colors, including grey, gold, bronze, green, violet and black. Its production is limited to five thousand units per year, making these gems very valued worldwide.

Tetakawi Mountain, meaning "Stone Mountain" in the Yaqui language, is the greatest emblem of the San Carlos skyline, its mystical silhouette inspired courage in the warrior spirit of the nomad Indians.

Guaymas Historic Center offers cultural tours through Plaza 13 de Julio that stands for the Heroic Act of Guaymas citizens who fought in 1854 against the French invasion. San Fernando Church was built in 1850 and is the port's main temple. The Former Public Jail, built in 1890, still preserves its cells but can now be visited by everyone so delight in its art exhibits. Jesus Sacred Heart Temple, Three Presidents Plaza, City Hall and Sonora Bank are also valuable samples of historic architecture.

Article Produced by the Editorial Team of Explorando Mexico.
Copyright: Explorando Mexico. All Rights Reserved.
Image: Johnny Lamb.