Swimming with Dolphins in Mexico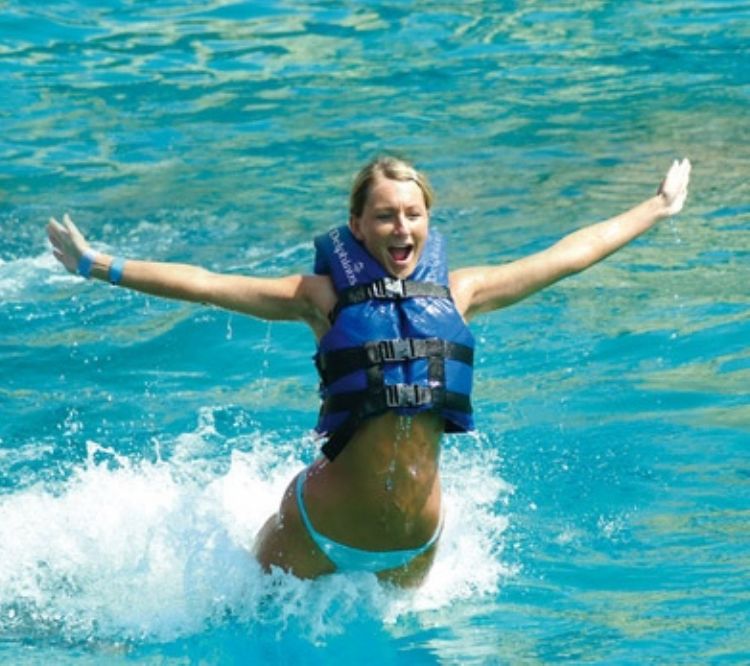 Have you ever wondered what it must feel like to touch a dolphin? It is a wonderful, spectacular and unique experience that leaves a lasting impression on those who try it.

Well, at least that's what people say after going swimming with dolphins in Mexico. Would you like to try that? You can visit the Mexican dolphinariums, get to know the animals and enjoy one of the most exciting moments of your life.

Various companies offer "Swimming-with-Dolphins" programs throughout the country and the Riviera Maya is one of the areas with the most offerings; however, before looking more specifically at any of these centers, it's important to know what these programs include.
Swim programs

Each aquarium, park or dolphinarium that offers this type of swimming establishes its own programs to interact with these aquatic mammals. Due to this, it is impossible to give an exact description of what is offered in each tourist center, but it can be generally said that a "Swimming-with-Dolphins" program includes the following:

1. Moments before the swim. Before going in the water, participants must pay attention to the rules of the facility. Most facilities do not allow people go in the water if they have any wounds or skin infections. Jewelry, caps or other accessories are not allowed in the water, as well. Of course, arm floats or any other type of floating device must be used. It is important to point out that swimmers are asked not to use suntan lotion because it may negatively affect the skin of the dolphins. Another important requisite is the use of a bathing suit. Additionally, participants must shower before the swim. Everyone must bring their own shampoo or any other product needed to take a shower before and/or afterwards.

2. Introductory talk. Some of the facility instructors give a short talk before the swim to explain the safety measures that swimmers must abide by and to give tips on how to really best enjoy the experience. They also mention some of the dolphins' characteristics to allow people to know them better before meeting them. Some aquariums usually show a computer presentation for the customers' convenience. This talk takes 10-15 minutes.

3. Swimming with the dolphins. Generally, a small number of people go in the water to swim with the dolphins and the activities that are carried out with these brilliant animals depend on the tourist center, aquarium or water, as well as on the swim program that the participant has selected.

Regularly, there are two types of programs in each center: basic and advanced.

- The basic program. In this program, people live the incredible experience of meeting the dolphins, swimming with them in the same pool and watch them do some flips. Also, they are allowed to pet the animals and many times participants can also feed the animals. Generally, swimmers stay in the pool for half an hour. In some aquariums, this program is called "educational program" and it is recommended for pregnant women, people with disabilities and senior citizens. It should also be mentioned that the basic program does not require participants that know how to swim.

- The advanced program. After enjoying the wonderful experience of being with the dolphins and touching them, some people want more. To meet this demand, advanced programs have been created to allow swimmers to interact more with the dolphins. As mentioned already, each facility or park hosts different activities, but among the most interesting programs hosted by most centers are: the incredible "Belly Ride" and the spectacular "Foot Push."

In the first activity, participants hold on to the flippers of the dolphins as they ride on the bellies of these water mammals. In "Foot Push," two dolphins push on the bottom of the participant's feet around the entire pool. It is important to mention that advanced packages, require participants that know how to swim.

Beyond the programs already mentioned, some companies offer additional services. For example, some companies offer a service called "observer." This service allows an observer to sit on the steps of the pool and watch the swimmer meet the dolphins. The cost of this service is usually not very high and, in most cases, swimmers can be accompanied by a maximum of two observers. Some dolphinariums include the access of one observer in the swimming program at no additional cost.

Another service that some of these companies include in their programs are transportation to and from the hotel. The transport vehicle picks up visitors at the hotel and drops them off at water parks, dolphinariums or similar facilities giving them enough time for swimming and other activities. After the fun, swimmers can take the transportation vehicle back to their hotel.



Prices

A basic educational program usually ranges from 80 to 100 dollars and the more advanced programs cost between 130 and 160 dollars; however prices vary according to the place you visit.

Companies

There are many areas in Mexico that offer this attraction. As previously mentioned, the Riviera Maya is the area that has the most tourist centers offering "Swimming-with-Dolphins" programs, but there are also some in Puerto Vallarta as well as in the capital city itself.

Some of the most important companies that offer "Swimming-with-Dolphins" programs, are:

-Delphinus (with locations in Cancún, Xcaret, Riviera Maya, Mayan Coast and Xel-Há). Programs offered by this company include "dolphin trainer for a day," in which swimmers learn more about these animals and acquire important training techniques. Delphinus' programs include: transportation to and from the hotel, picture with the trainers, diploma and T-shirt.

-Dolphin Discovery. This company also offers "Swimming-with-Dolphins" programs in various locations and it is not necessary to be staying at a seaside location to enjoy this experience. This dolphinariums also offer this kind of programs in Mexico City!

- Parque Acuático Splash. Located in Puerto Vallarta, this place also offers "Swimming-with-Dolphins" programs. This proves that this attraction is not only offered in the Riviera Maya.

These are just some of the companies that offer "Swimming-with-Dolphins" programs. To know more about them, visit their websites:

Delphinus
Dolphin Discovery
Splash Vallarta
Dolphinaris

So, if you ever wished to touch a dolphin, know you know where to do it. These spectacular water mammals are within reach at all the dolphinariums of the Mexican Republic.

Foto: Delphinius
Article Produced by the Editorial Team at Explorando Mexico.
Copyright: Explorando Mexico. All Rights Reserved.